S7 Tactical has a state-of-the-art firearms and tactics training facility right outside Conway, Arkansas. At S7 Tactical, we provide students with a strong foundation that will allow them to build their firearm skills and provide them with the most current and relevant training. All our instructors have the highest commitment to safety and effectively train a full range of disciplines in an ego-less environment.
S7 Tactical is able to offer a diverse curriculum. We can custom tailor training for you and your needs. Please call us at 501-777-5907 or email s7tactical@gmail.com for more information.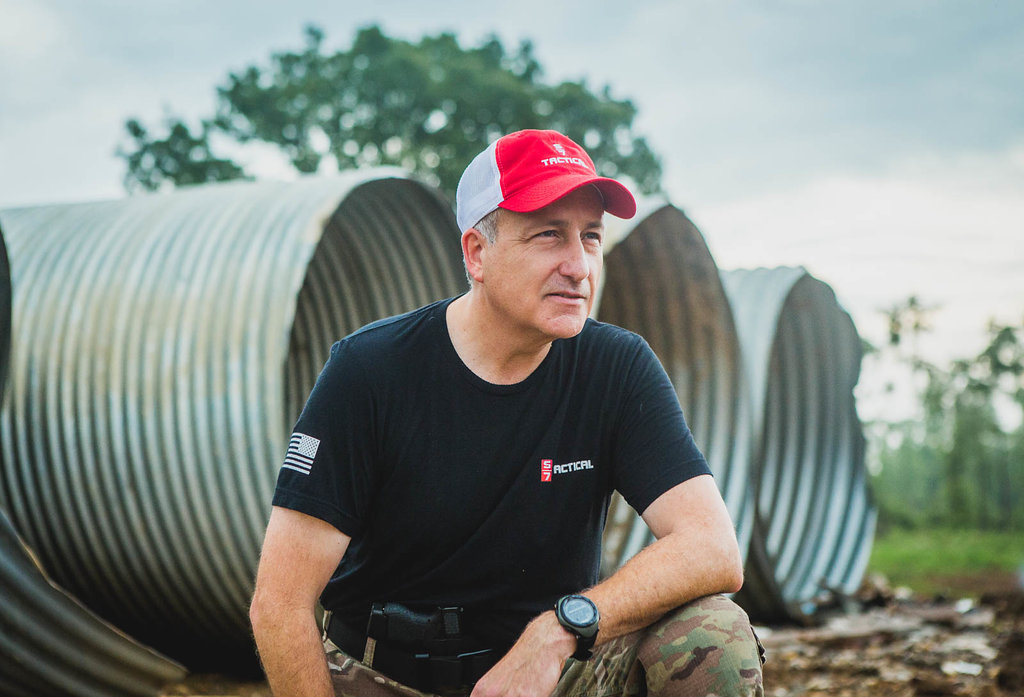 ARKANSAS STATE SPONSORED TRAINING
All of our state sponsored classes not only meet but exceed all the requirements for someone to apply for an Arkansas Concealed Handgun Carry License. As with all our classes, we facilitate with the most up to date training information in an ego-free environment.
Arkansas Basic Conceal Handgun Carry License: A few of the topics we discuss are, Situational awareness and personal safety, Safe gun handling and firearm safety rules, Handgun marksmanship fundamentals, Basic criminal law and civil liability, Concealed carry concepts and a Live-fire qualification drill - $99
Arkansas Enhanced Conceal Handgun Carry License: Additional topics for the Enhanced course are; Firearms Safe Handling, Statistical Crime Information, Firearms Retention Philosophies, Basic Criminal Law and Civil Liability, Common Firearms Malfunction Clearing, Violent Encounter Avoidance Statistics and a Comprehensive live-fire qualification drill - $125
Arkansas State Conceal Carry License Renewal: The state of Arkansas requires all Conceal carry license holders to "Renew' their license every 5 years. S7 Tactical can complete your renewal process. The course of fire is 10 rounds at 10 yards and the total renewal time is 15-20 mins. We will discuss any changes in the laws and answer any question you may have on the current laws. Cost for each renewal and is made payable by cash or check to your instructor at the time of the renewal - $30. Please contact Barry Heller at 501-231-1933
GUN COACHING
Our Gun Coaches (think personal trainer) will support and encourage clients to become the best version of themselves. Gun Coaching clinics are 2 hours of performance-based training that are designed to allow the student to choose a firearm discipline that interests them.
F.A.S.T. (Fundamentals, Accuracy, Speed and Time) Clinic: This drill is designed to assess your ability to draw, establish quick sight acquisition, effective trigger manipulation, weapons manipulation, and magazine exchange under a time restraint. These are all key elements needed to survive a critical incident. Distance will be at 3 yards with a loaded holstered pistol, the student will draw and fire 2 rounds into a reduce target, reload with 4 rounds and fire at an enlarged target. Gear List: Pistol (safe working condition), holster (non-collapsible), mag holder, two magazines and minimum of 100 rounds - $50
Dot Torture Assessment Clinic: The DTD will test your overall safe pistol handling ability, which will include firing single handed, reloading, and multiple rounds within a reduced target. The student will fire 50 rounds from 7 yards. The student will fire at a series of circles (2") with a variety of instructions. Not timed but a score will determine the student's overall ability. Gear List: Pistol (safe working condition), holster (non-collapsible), mag holder, two magazines and minimum of 200 rounds - $50
Z Movement Clinic: This is a challenging drill that will assess the student's ability to shoot and move effectively. The student will move and accurately fire on targets with their primary weapon system (Rifle), then transition to their handgun. From a variety of distances, the student will fire a total of 8 rounds (6 Rifle / 2 Pistol). This drill was designed to induce stress and teach safe weapons handling, while moving from target to target. Gear List: Rifle (safe working condition) and magazine, rifle sling, pistol (safe working condition), holster (non-collapsible) and minimum of 50 rounds for each firearm system - $50
Urban Barricade Clinic: This drill was designed to assess the student's ability to effectively engage targets from various unorthodox shooting positions utilizing an urban barricade. The student will be challenged physically and mentally to complete a course of fire under a time and accuracy restraint. Distance will vary and the student will fire 9 rounds into a steel target. Gear List: Rifle (safe working condition) and magazine, rifle sling, and minimum of 100 rounds - $50
Pistol Multiple Target Engagement Clinic: This drill was designed by infamous Col. Jeff Cooper to assess the student's ability to quickly and accurately engage multiple targets at 10 yards under a time restraint. Gear List: Pistol (safe working condition), holster (non-collapsible), mag holder, two magazines and minimum of 100 rounds - $50
Rifle Multiple Target Engagement Clinic: This drill was designed by infamous Col. Jeff Cooper to assess the student's ability to quickly and accurately engage multiple steel targets at 25 yards under a time restraint. Gear List: Rifle (safe working condition) and magazine, rifle sling, and minimum of 100 rounds - $50
Modified (Rifle and Pistol) Target Engagement Clinic: This drill was designed by infamous Col. Jeff Cooper to assess the student's ability to quickly and accurately engage multiple steel targets at 25 yards under a time restraint. Gear List: Rifle (safe working condition) and magazine, rifle sling, pistol (safe working condition), holster (non-collapsible) and minimum of 100 rounds for each firearm system - $50
Urban Concealed Carry Clinic: This drill was designed to assess the student's ability to effectively engage targets in an environment that replicas a real-world scenario. The student will be challenged physically and mentally to defeat garments, effectively draw, and evaluate hostile and non-hostile targets. The clinic will be a command driven course of fire, where the student will have to shoot and move. Gear List: Pistol (safe working condition), concealed carry holster (non-collapsible), cover garment, mag holder, two magazines and minimum of 100 rounds - $50